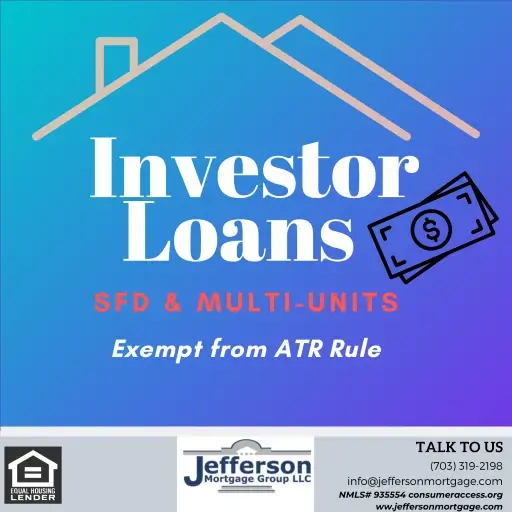 The real estate market is clearly cooling from the recent low-rate frenzy as a result of the Fed's push for higher rates and tightening credit parameters. The market has decisively turned from a complete emphasis on the seller to a more balanced market.  Properties are available without having to over pay.  The home seller that was once on the very top of the mountain reigning supreme is now fearful.  This balance is very healthy but it does not mean that the pool of prospective buyers is totally unaffected. Higher rates and tighter credit parameters across the board have pushed many buyers to the sidelines.  That is part of the Federal Reserve's objective but it does not block the potential opportunities for the nimble investor armed with the exempt property-based loans for acquisition.  The No Doc Investor loans are primarily based on the property's cash flow metrics and are exempt from the Federal Ability to Repay Rules (ATR Rule).  The debt coverage ratio that measures the total monthly property cost and compares it to the property's marketable rent is the key. This is also a key metric for general property evaluation that any prospective buyer would want to assess when considering a property.  A target of 1 to 1 or above with more income than monthly expense is always the goal.  Expanding your search from single units to the consideration of multi-units can make these loans and investment scenarios very attractive to add to your portfolio. These loans are very flexible and can be taken out in the name of an individual owner or in the name of an LLC.  Please let us know if you would like to learn more.   

George H. Omilan
President-CEO - NMLS# 873983
Jefferson Mortgage Group LLC - Mortgage Specialist

Programs:  Traditional QM (Fannie Mae, Freddie Mac), government insured HECM Reverse Mortgages, and Non Traditional Non QM Mortgages commonly referred to as Specialized Forward Mortgages including "Alt-A Investor loans" at 80% LTV, both Full doc and No Income-No Employment (No Doc) for the investor community. Our expanded niche products also focus on the more traditional FHA & VA with Lower Score and higher Debt-to-Income Options, Fixed & Variable Jumbo loans, and Private Label Reverse mortgages for higher priced homes. We are also highly focused on specialized loans for the Self-Employed borrowers with our Bank Statement & Asset Dissipation Programs. We are committed to offering a full range of "Non-QM Loans" for expanded qualification, where the banks and large-scale lenders dare to go.