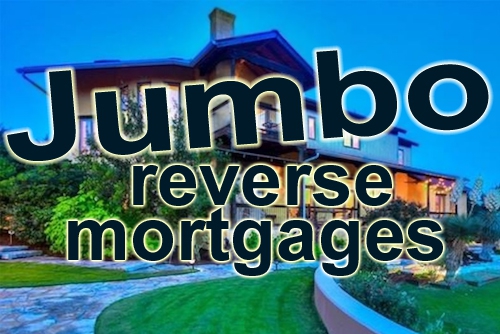 With the introduction of the government insured HECM changes that have appeared to rattle the market in October, the Jumbo Private Label Reverse Mortgages may have found their footing.
Home values are acceptable significantly above the government insured limits. Two unit owner occupied properties are also acceptable. Significant modifications have also been made to make the Jumbo Reverse attractive. For example, the rates have dropped just under 25% from previous levels. Rate options have also been introduced for higher risk loans whereby homeowners can pay up for higher principal limit access versus the past where the program was restrictive and provided no eligibility options for this category.
The Jumbo Reverse, by design, has been established to mirror the many aspects of the government insured HECM Reverse. In other words, it's a terrific tool for higher priced homes and non FHA approved condominiums and other scenarios where the homeowners may not be eligible for the HECM Reverse. One of the most attractive features, in my opinion, is the self-insurance. As with the HECM Reverse, there is no mortgage insurance premium or otherwise termed MIP. The rate offered is self-insured thereby eliminating the upfront MIP requirement and also the traditional monthly requirement. This provides more affordability.
The Jumbo Reverse has evolved in the past several years from a high cost rigid program to an innovative formidable contender taking center stage as an attractive back up to the HECM Reverse. This allows us to provide a much broader array of options and eligibility to help our customers when combined with the HECM Reverse.

George H. Omilan
President-CEO - NMLS# 873983
Jefferson Mortgage Group LLC
Located in Fairfax County - Helping seniors gain peace of mind with Reverse Mortgages and Jumbo Reverse Mortgages in Virginia, Maryland, DC and Pennsylvania.
Questions/Comments encouraged.