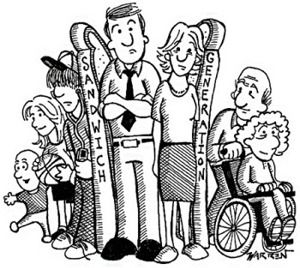 The Sandwich Generation is defined as parents who have to take care of their kids and their aging parent(s) at the same time. According to the Pew Research Center, just over 1 of every 8 Americans aged 40 to 60 is both raising a child and caring for a parent, in addition to between 7 to 10 million adults caring for their aging parents from a long distance.
The key element that will enable the Sandwich Generation to manage the responsibilities really comes down to involvement and planning. As a parent, my two kids are lovely but relentlessly demanding at every stage it seems. To counter this my wife and I must plan. We plan for school, sports, vacations, local trips, and even dinner. Every successful venture, no matter how big or small, requires a plan or we pay the price. All parents know this but what they don't know is that to be a successful Sandwich you must apply these same techniques to your aging parents.
This means that you cannot sit back and wait for your parent(s) to drop a crisis in your lap. A crisis like running out of money could be devastating. The key is to apply the same simple techniques that you use every day with your children. Require that your parents fully disclosure their financial situation and their care needs. You must review their monthly income and expenses. To be responsible, you must also force full disclosure on this issue and any other health related issues that may be present.
Most of the Sandwich Generation that I have been involved with simply take care of their children and wake up one day to a time bomb that just went off resulting in an immediate crisis with their parents. Parents do not want to disclose. They prefer to mind their own affairs until they can't. This cannot be allowed if the well-being of the Sandwich is going to be maintained. By being proactive and fully understanding the needs and financial capacity of your parent(s) you can plan for them and help them just like you do for your children.
One pertinent element of the plan is financial. Just like not planning for dinner with children can result in total meltdown, not being on top of your parent(s) financial situation can have the same result but with a much more devastating effect. A suggestion here would be to review all income and assets to ensure they are working together in concert. Alternatively, you could do nothing and allow your parent(s) to consecutively dissipate each asset down to nothing and dump the issue in your lap. The better course would be full disclosure and the implementation of a plan. In this area, a Reverse Mortgage could prove to be a very versatile tool to pay off mortgages and other debts. Balancing monthly cash flow requirements more in line with monthly income is the first step. Anything that can stabilize assets so they can produce income or simply be preserved for real emergencies is a critical planning element.
There are other contributions a Reverse Mortgage can provide but my point here is really to point out the necessity of a plan to be a successful Sandwich. This sounds so elementary but so many people do not know the full extent of their parent(s) financial or personal needs until it become a crisis. In order to be a Happy Sandwich all it takes is some pertinent planning. The first two sentences to broach the subject may be the toughest, but as we have learned with our children, it's also a necessity.
George H. Omilan
President-CEO - NMLS# 873983
Jefferson Mortgage Group LLC
Helping seniors with Reverse Mortgages in Virginia, Maryland and Pennsylvania.
Questions/Comments encouraged.