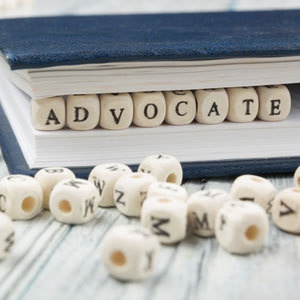 As we get older we often take things for granted. We all collectively feel that we have it covered and that we can still handle just about anything that is thrown at us. However, this is not always the case and not reaching out for help in certain scenarios could prove to be detrimental.
Advocates can be used for many things. The most common is hiring a lawyer to navigate the court system or an accountant to address the complexities of the tax law. These are the easy ones. What we often miss or take for granted are things like medical bills, the misdiagnosis of illnesses, or medical procedures.
With medical bills, the hour glass has been turned over and time is working against you. This is one of the top reasons people are forced to file for personal bankruptcy. It is important to get incorrect billings addressed as quickly as possible. This is an area where it may be worthwhile to hire a personal advocate. Expecting your grown daughter or son that is raising your grandchildren to help you work these issues out on top of their full schedule may not realistic.
The second area touched on directly relates to illness. It may be prudent to get additional opinions for a diagnosis. This is a hard thing to do and you may need help. A patient advocate can help you navigate this course of action. You may want to get a jump start with someone that has contacts and is knowledgeable to help you chart the best course. Some diagnoses like dementia and Alzheimers are so overwhelming financially and emotionally that it is almost always a good idea to seek the help of an advocate.
I think it is extremely important to understand that, given we have so many people in the health care system, we have become a conveyor belt society. What do I mean by this? There are so many rules and regulations in the healthcare industry it is daunting. I would like to share a real life personal experience with you. A loved one goes in for surgery. Certain medications are planned for and approved by the doctor ahead of the procedure. However, did you know, that in major hospitals in Virginia that unless you ask for specific medications they will not be given to you. That is correct. Your loved one could be in excruciating pain and unable to ask for pain medication. In this scenario, unless you have a family member or a patient advocate present and on point and ready to make the necessary demands it's going to be an unpleasant experience. This is shocking but it's all part of the ongoing pile on of more regulations. It would be wise to plan procedures and have someone in the hospital room at all times as your loved one recovers and not simply on call or in the waiting area.
I am sure we all have experiences. Personal advocates for difficult financial dealings and patient advocates for medical and illness related issues should be considered even if they are only utilized for help with filling the voids that the family cannot cover. I constantly promote the value of planning and utilizing a government insured Reverse Mortgage as a standby to provide funding for care. This same mechanism can be utilized for paying for advocates. Planning and oversight will protect your family. Don't try to do everything. Instead, consider the assistance of an advocate.

George H. Omilan
President-CEO - NMLS# 873983
Jefferson Mortgage Group LLC
Located in Fairfax County - Your Reverse Mortgage Specialist in Virginia, Maryland, DC and Pennsylvania.
Questions/Comments encouraged.