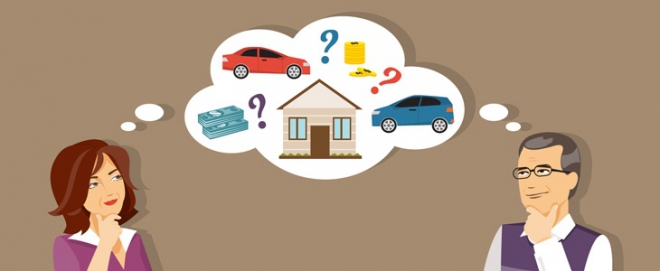 The words retired, fixed income, and divorce don't always go that well together. Many retirees live primarily on Social Security and a small amount of investment income. A divorce, no matter how amicable, will often require the division of property. It is not uncommon for people to feel pressured to sell the home, due to current mortgage balances that are unaffordable, with a separation of income during a divorce. In other instances, couples will attempt to leverage up with inexpensive home equity lines of credit as a means of dividing the property. Both of these options create potentially unsuitable risk for the individuals, especially if they are retirees and on fixed income.
The sale of the property is expensive and it leaves both individuals with the requirement of seeking a residence on their individual fixed income. Secondly, the buyout option will leave the individual that resides in the home with variable debt that requires a monthly payment. The residual fixed income that remains after separation may not be enough to handle this strategy intermediate to longer term and this creates risk. Retirement is often not the phase in life were we are generously rewarded for taking such risk.
A more constructive option would be to use a Reverse Mortgage as the mechanism to create the liquidity needed to divide the property home equity. The Reverse Mortgage does not require a monthly mortgage payment so there is not additional pressure on either individuals fixed income. A couple seeking a constructive means of division of property can divide the property with relative ease and minimal risk. A Reverse will also eliminate any existing mortgages requiring payments on a property thereby making any negotiations related to property division that much more palatable. A Reverse Mortgage can be used for eligible homeowners to create a low risk pool of liquidity so they can better and more safely meet their objectives when faced with division of property options.
George H. Omilan
President-CEO - NMLS# 873983
Jefferson Mortgage Group LLC
Located in Fairfax County - Your Reverse Mortgage Specialist in Virginia, Maryland, DC and Pennsylvania.
Questions/Comments encouraged.