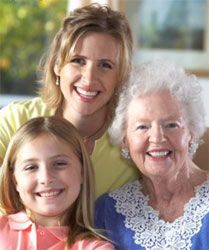 This is a Reverse Mortgage success story that repeats itself time and time again. Our parents achieve financial equilibrium by neutralizing debt, like mortgages, and discovering a safe innovative means to access their home equity, either now or when they need it in the future, with a Reverse Mortgage. It's about releasing the burden of the constant financial worry so there is room for more enjoyment. This equilibrium also allows for our parents to enjoy longevity and take life as it comes rather than always being concerned about financial constraints. It further provides leeway for their grown children so they can educate and take care of their children without any outside financial burden. The addition of a Reverse Mortgage can be a tool that provides the sought after peace of mind that is the foundation of enjoyment for the entire family. Let's face it, life is expensive, but that doesn't mean we have to stop enjoying it.

To hear more success stories from the homeowners themselves, click here. And for other more information on how a Reverse Mortgage can help a whole family - read our blog on "How Pertinent Planning can help the Sandwich Generation".

George H. Omilan
President-CEO - NMLS# 873983
Jefferson Mortgage Group LLC
Helping seniors with Reverse Mortgages in Virginia, Maryland and Pennsylvania.
Questions/Comments encouraged