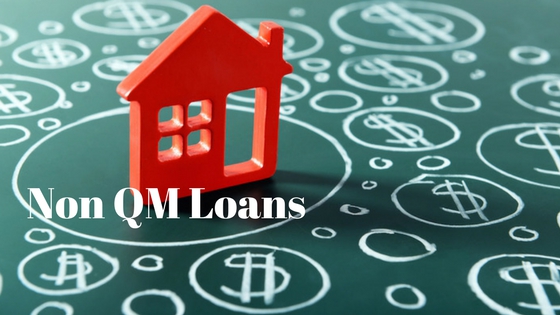 Maybe this is just what the doctor ordered. Remnants from the crisis, such as a Short Sale, Foreclosure, or even possibly a bankruptcy, could still be holding you back. Quality Mortgages (QM) defined is that square box of perfection that you must fit in to get many mortgages today. Many significant credit events under QM loans require up to seven years to be eligible. However, the market is now calling out to you. It's ever changing and adapting to the presence of need. A newer category called Non QM is evolving to meet the needs of people for loans that fall outside the standards of QM. This category offers a broader range of flexibility with higher debt ratios, lower credit scores, flexible LTVs but with conservative fixed rates and long term arm programs and not the short term adjustables of old with prepayment penalties, balloons, and sky high margins.
Just a few years ago, the majority of people that did not meet the QM guides would not be able to get a loan. Today, we are starting to see the flowers blossom across the market as the process of renewal takes hold. We have loan programs that will allow short sales, foreclosures, bankruptcy as little as one day out for such an episode to a more reasonable two year waiting period with high loan to values and attractive terms. The market place has also learned lessons and the regulators are present.
In my opinion, your most powerful tool today is presentation. Regardless of your credit and financial profile it is your job to demonstrate that you are ready for a loan. With the emergence of the Non QM market and all the fancy Alt-A loans we have for investors to buy properties, you simply have to present yourself. The rules and regulations to get a mortgage are still tighter than ever but the market is also still run by people that are willing to hear your story. If you present yourself and explain and document your situation, with a little bit of patience, I would bet that there's a Non QM Loan opportunity waiting for you. We can help you with this presentation.
For more information on non-QM loans see - QM versus Non QM...What is its significance for you?

George H. Omilan
President-CEO - NMLS# 873983
Jefferson Mortgage Group LLC
Mortgage Specialists - Virginia, Maryland, DC & Pennsylvania
Other Programs: Alt-A Investor loans-80% Full doc & 75% No Income-No Employment, FHA & VA with Lower Score Options, Fixed & Variable Jumbos-Traditional & Private Label Reverse, Self-Employed Bank Statement & Asset Dissipation Programs. Full range of Non QM Loans for expanded qualification.
Questions/Comments encouraged.