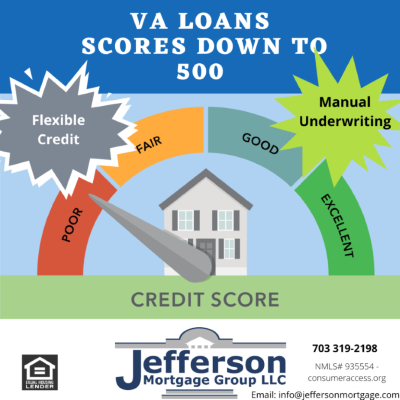 Most veterans are relegated out of the VA Loan Program by the marketplace for having lower credit scores and credit related issues. Many lenders shy away from VA borrowers with less than 620 credit scores and others have instituted underwriting overlays that make it a requirement for score minimums as high as 640 for veterans. We offer the VA Program with a low score option that we refer to as VA Low Score. This program provides up to 100% financing for eligible borrowers with credit scores as low as 500. This provides the veterans the opportunity to buy a home and allows them to get their credit issues in order over time. This is a nice alternative to otherwise being locked out of the mortgage market. The VA Loan Program is by far the fairest and most reliable financing program out there for veterans in today's market. The rates are slightly higher for lower scores but the program also allows for a streamline refinance in the future. The combination of flexibility provided by our VA Low Score and the VA Streamline option provides the eligible veteran the most flexible access to a new mortgage and future benefits of an easy, low cost refinance when their credit profile improves. The VA Low Score is a manually underwritten loan thereby providing the borrower the consideration of a human decision maker versus a computer based platform. The manual underwrite is a highly sought after feature and the foundation of the decision-making flexibility afforded to veterans and active duty when it comes to mortgage financing.
George H. Omilan
President-CEO - NMLS# 873983
Jefferson Mortgage Group LLC
Mortgage Specialists - Virginia, Maryland, DC & Pennsylvania
Other Programs: Alt-A Investor loans-80% Full doc & 75% No Income-No Employment, FHA & VA with Lower Score Options, Fixed & Variable Jumbos-Traditional & Private Label Reverse, Self-Employed Bank Statement & Asset Dissipation Programs. Full range of Non QM Loans for expanded qualification.
Questions/Comments encouraged