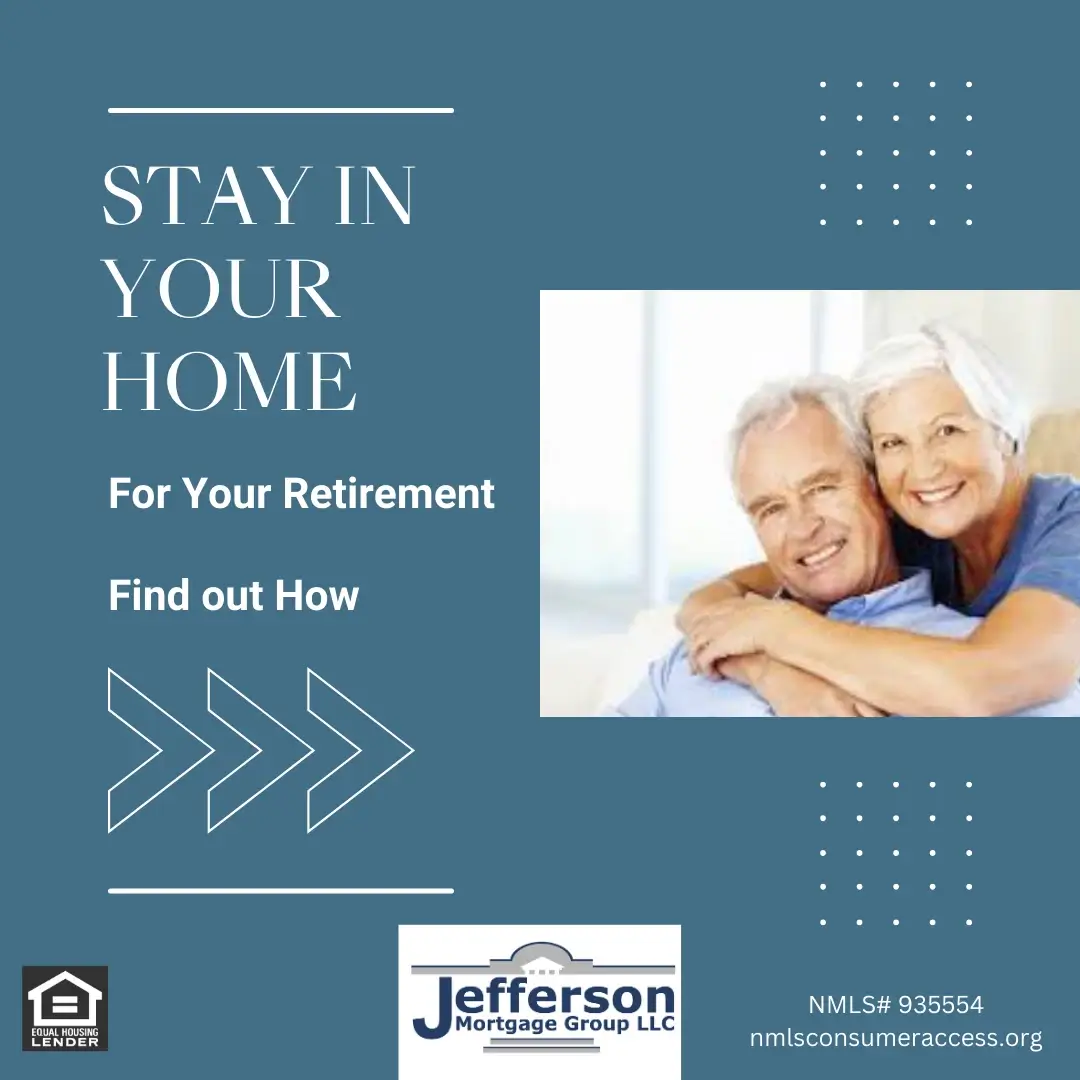 Would you like to be able to stay in your home for your entire retirement? Most people that are thinking about retirement and the shift to eventually living on a fixed income and those that are already retired more than likely would answer yes to this question. The answer is the easy part. The tough part is determining the how. How will you be able to stay in your home and afford your current lifestyle no matter how long you or you and your spouse may live? If this message is of interest to you, we would like to help you answer this question. We specialize in helping people with safe options that will help them be in a position to stay in their homes for their entire retirement.

Here are the programs that may help:
Home Equity Conversion Mortgage

- HECM - Government Insured Reverse Mortgage

Jumbo Reverse Mortgage - Jumbo Reverse Mortgages provide added flexibility and options for High-Value Homes, non-FHA eligible properties, and other scenarios that may not be eligible for the government insured HECM Reverse Mortgages.
Jumbo Standalone Reverse Second Trust - Access your current home equity without refinancing and no additional monthly payments. A second lien preserves a low-rate existing first-lien mortgage.
George H. Omilan
President-CEO - NMLS# 873983
Jefferson Mortgage Group LLC - Mortgage Specialist

Programs:
Traditional QM (Fannie Mae, Freddie Mac), government insured HECM Reverse Mortgages, and Non Traditional Non QM Mortgages commonly referred to as Specialized Forward Mortgages including "Alt-A Investor loans" and DSCR (Debt Service Coverage Ratio) loans up to 85% LTV, both Full doc and No Income-No Employment (No Doc) for the investor community. Our expanded niche products also focus on the more traditional FHA & VA with Lower Score and higher Debt-to-Income Options, Fixed & Variable Jumbo loans, and Private Label Reverse mortgages for higher priced homes. We are also highly focused on specialized loans for the Self-Employed borrowers with our Bank Statement & Asset Dissipation Programs. We are committed to offering a full range of "Non-QM Loans" for expanded qualification, where the banks and large-scale lenders dare to go.