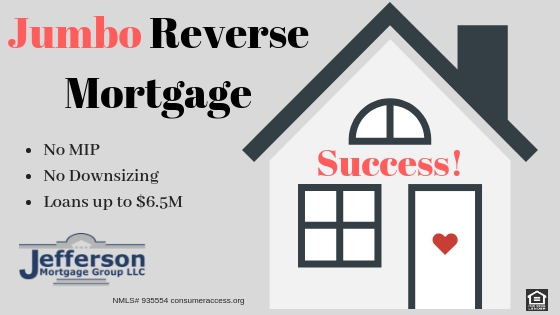 A husband and wife in their late sixties are comfortably retired in a nice family home with the exception of mortgage payments.  Everyone they have spoken with recommends selling their home and downsizing but they reject that notion.  They like their home and they are very comfortable. If they didn't have to deal with a mortgage payment and a recent home equity line payment, in their words, they would have perfection. 
Their income is primarily derived from Social Security and what they can earn off of their investments.  Each month when the payments are due they find that they have to dip into their savings to make all the ends meet.  This is fine for now but they are only in their late sixties and have a lot of living left to do.  With this situation and the general volatility of their investments they have found that they are uncomfortable and somewhat insecure with the money issues.  They clearly want a better plan.

They decide to stay in their home with the help of a Jumbo Reverse Mortgage.  They had to put some money down on their new loan to meet the eligibility requirements due to their relatively young age, but they no longer have a mortgage payment and the insecurity is now gone.  They no longer have to dip into their investments each month.  They have achieved a level of equilibrium so they don't have to worry as much about running out of money or outliving their nest egg.

This scenario is very common.  People aren't necessarily satisfied with downsizing.  Also the market is full of homeowners that have significant home equity and savings that are in a position to adopt a plan along these lines.  This is proof that you don't have to follow the crowd mantra of downsizing and that perfection can be achieved on your own terms.  
 
George H. Omilan
President-CEO - NMLS# 873983
Jefferson Mortgage Group LLC
Mortgage Specialists - Virginia, Maryland, DC & Pennsylvania (Jumbo Reverse Mortgages - VA, DC & PA only)
Other Programs:   Alt-A Investor loans-80% Full doc & 75% No Income-No Employment, FHA & VA with Lower Score Options, Fixed & Variable Jumbos-Traditional & Private Label Reverse, Self-Employed Bank Statement & Asset Dissipation Programs. Full range of Non QM Loans for expanded qualification.
Questions/Comments encouraged.