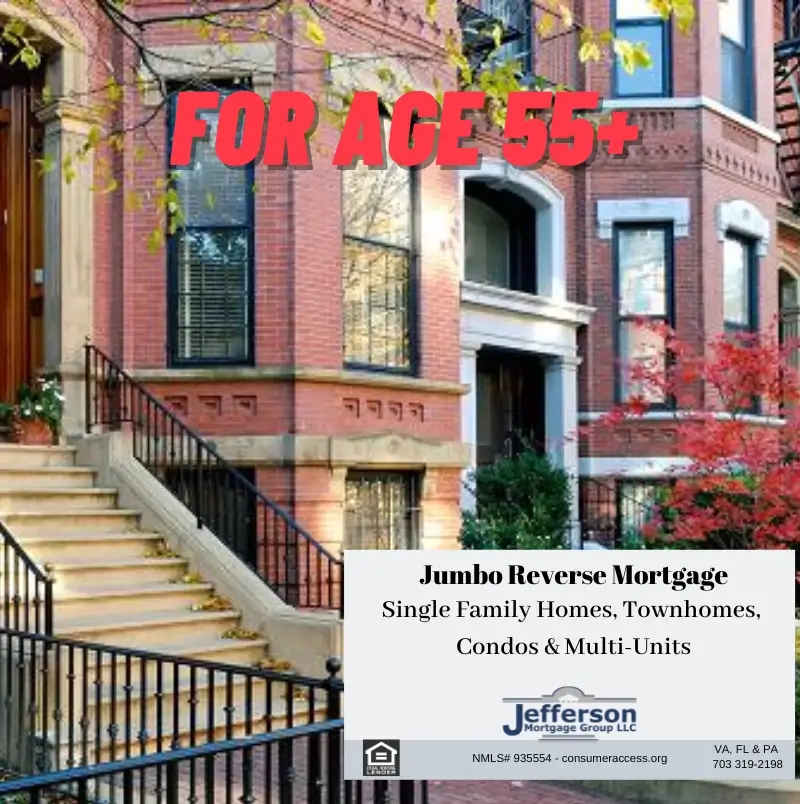 Do you have options for a Reverse Mortgage if you are only 55 years old?  Yes!  Our private Jumbo Reverse Mortgage is now open for eligible applications age 55 and above.  As rates have risen very quickly since the middle of February, the government HECM programs have been squeezed a bit.  The eligibility guidelines are tighter and nowadays in many instances the available loan proceeds are lower.  Enter the Jumbo Reverse.  Do you want flexibility?  You are allowed to pay off debt with the loan to qualify whereas with the HECM this is not allowed.  Are you cost conscience?  The Jumbo Reverse does not have any MIP payments or heavy upfront costs.  The Jumbo will have a higher rate but costs will be very low without origination fees and MIP insurance requirements.  Don't get me wrong. The HECM Reverse Mortgages are still very viable but the Jumbo Reverse Program has been more stable in the face of significant rate increases and the Jumbo eligibility guidelines are also more flexible in many areas.  Something to consider.  With the HECM you have to be at least 62 to be eligible but with the Jumbo Reverse you now have options beginning at 55. 
George H. Omilan
President-CEO - NMLS# 873983
Jefferson Mortgage Group LLC
Reverse Mortgage Specialists - Virginia, Maryland, Florida & Pennsylvania (Jumbo Reverse Mortgages - VA, FL & PA only)
Other Programs:  Alt-A Investor loans-80% Full doc & 75% No Income-No Employment, FHA & VA with Lower Score Options, Fixed & Variable Jumbos-Traditional & Private Label Reverse, Self-Employed Bank Statement & Asset Dissipation Programs. Full range of Non QM Loans for expanded qualification.
Questions/Comments encouraged.