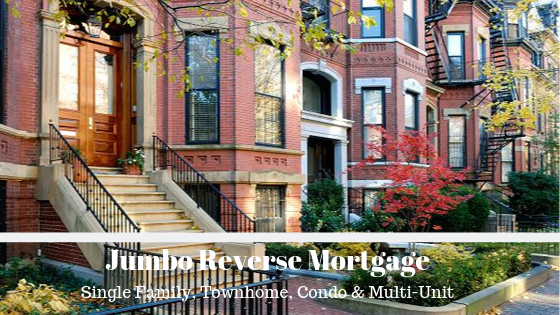 Low interest rates have, in one perspective, liberated older homeowners by giving them many choices to stay in their family homes with Jumbo Reverse Mortgages.  Some of the choices may include paying off existing mortgages and other debt, adding liquidity, or simply supplementing income for monthly expenses.  The Jumbo programs initially came out in 2014 but frankly were not very consumer friendly or attractively priced at that time for consumers. However, lower interest rates and general competition with government reverse mortgage programs have paved the way for more flexible guidelines and much friendlier terms for homeowners. In short, this evolution has really made these programs very consumer friendly and provided real options to what otherwise could be termed forced downsizing for many people. Jumbo Reverse Mortgages are available for single family homes, townhomes, condominiums, and even multi-units as long as you occupy at least one of the units as your primary residence.
Jumbo Reverse Mortgages - also known as proprietary or private label reverse mortgages - are loans that enable owners of high-value homes to access greater amounts of their home equity than is available from the government insured HECM reverse mortgages. For more program features, see our Jumbo Reverse Mortgage page or give us a call at 703 319-2198.
 
To read more about Jumbo Reverses - see our previous blogs:
George H. Omilan
President-CEO - NMLS# 873983
Jefferson Mortgage Group LLC
Located in Fairfax County - Helping seniors gain peace of mind with Reverse Mortgages and Jumbo Reverse Mortgages in Virginia, Florida and Pennsylvania.
Questions/Comments encouraged.