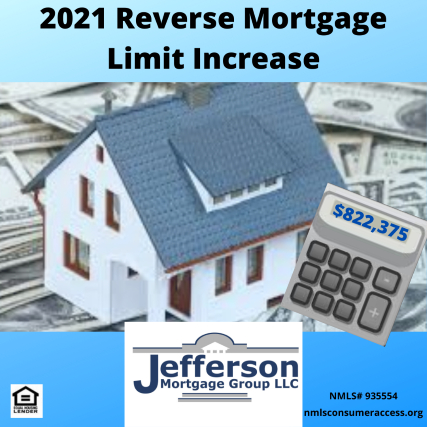 What does this mean for you?  A higher limit will accommodate higher home prices and allow for higher home equity access across the board for all eligible age groups going forward. Higher equity access means the HECM has become a more flexible tool for retirement planning for all eligible retirees and seniors. It will also potentially allow for increased home equity access for homeowners that were previously on the fence, or otherwise termed "threshold of loan eligibility".  This may allow people in this position, that also meet all other eligibility requirements, to now payoff their mortgages without the prospect of bringing funds to closing that otherwise would have been required. Or allow those that flat out would not have been able to get a reverse mortgage to be eligible.  If you're interested in finding better ways to live within your means and enjoy what retirement has to offer, understanding what a HECM Reverse Mortgage may add is not a bad start to the new year.

To learn more about the HECM Reverse Mortgage, frequently asked questions and benefits, see the links below.
George H. Omilan
President-CEO - NMLS# 873983
Jefferson Mortgage Group LLC
Reverse Mortgage Specialists - Virginia, Maryland, Florida & Pennsylvania (Jumbo Reverse Mortgages - VA, FL & PA only)
Other Programs:  Alt-A Investor loans-80% Full doc & 75% No Income-No Employment, FHA & VA with Lower Score Options, Fixed & Variable Jumbos-Traditional & Private Label Reverse, Self-Employed Bank Statement & Asset Dissipation Programs. Full range of Non QM Loans for expanded qualification.
Questions/Comments encouraged.